If you're looking for the right HVAC field service software for the first time, perhaps you are a little overwhelmed. You may choose several options, and it might be difficult to determine which one is a perfect fit for your HVAC business.
The HVAC sector is doing very well, all thanks to advances like HVAC Software. The HVAC business may accomplish much with the software, like tracking client data and scheduling appointments. So to help you choose the best HVAC field service software, the following are tips to look at:
1.  Ensure It Is Capable of Tracking and Sending Invoices
Every business should track and send invoices made to their clients. This often needs a very dedicated accounting team that can manage invoices as well as carry out a follow-up when dues are delayed or not paid.
Having the right HVAC field service software with the capability to track and send invoices, and then send automated reminders can save your team's energy and time. It can as well create a smooth workflow without disrupting administrative tasks.
2.  Verify the Software Flexibility
If a business is looking to grow, being flexible should be the key. Flexible businesses can provide more services, and the same applies to field service software.
The software should handle all kinds of services and processes your business runs on. More importantly, it must be integrated with other programs into your HVAC dispatching and scheduling software.
It should also be able to integrate with CRM, ERP, and accounting services. This will allow you to connect sales programs, tax systems, and subcontractor management systems with the HVAC field service software.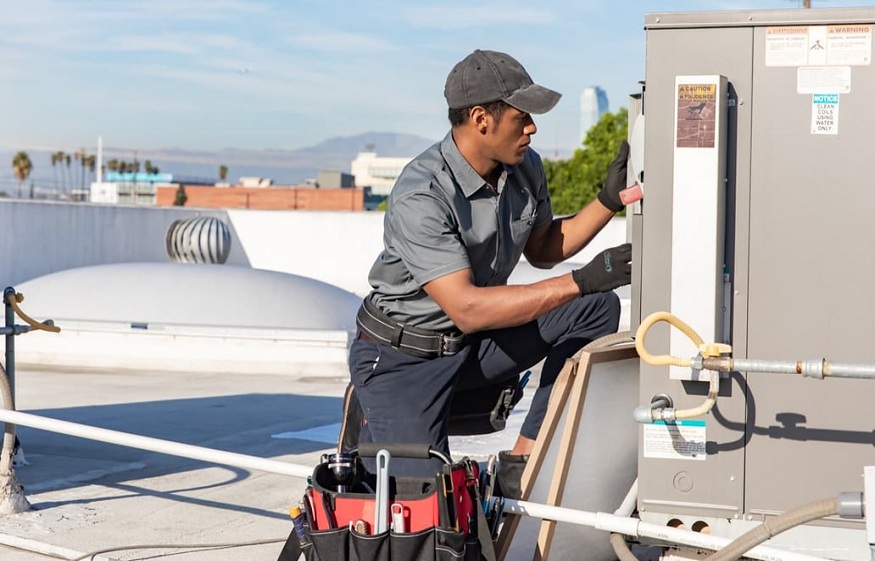 3.  Consider Simple-to-Use Interface
Having field service software with powerful and extensive features is meaningless if you find it hard to use because of a confusing or cluttered interface.
At times, this is in the beholder's eye. So you might want to ensure that any HVAC field service software you choose makes more sense to you and your business. Otherwise, it will lead to more headaches in the long run.
4.  Prioritize the Simplicity of Training and Implementation
Implementing HVAC field service software can affect the entire business organization. Especially if the software is new, a successful implementation may need corporation and willingness from your workers across all the departments. And mostly, you will experience a form of resistance from your workers.
Therefore, you must look for an HVAC field service software with an easy-to-use and simple interface, which won't need your workforce to carry out extensive training to use the system.
In fact, some HVAC field service software providers develop expansive partner networks among HVAC services companies to help with the software's implementation, management, and training.
Collaborating with the right software provider will help your workers familiarize themselves with the HVAC field service program, making it easier and faster for them to know how it works.
The Takeaway!
The decision of choosing the right HVAC field service software is a little bit tricky but not so complicated. Having the right field service software will be a game-changer for your HVAC business. And with the help of some tips, you will be able to choose the right software for your business.